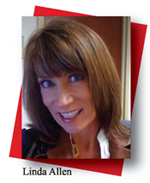 Linda Allen has been blessed to manage a variety of different teams during her 19-year career with State Farm, a Fortune 500 insurance company.
Her lifelong adventure has been about serving others with integrity and compassion. A native of Blue Ridge, Virginia, Linda was the third child born to Roy and Mary Tyler Cockran. Growing up in a family of five, Linda learned a lot about good people service at a young age. Linda's father, the owner of a small business, showed her how to deliver great people service to customers, family, and community.
After Linda earned a double major from Emory & Henry College, she became a television news reporter and anchor at NBC.
A persistent recruiter persuaded Linda to consider a career with State Farm, where she has served in seven departments, including training, human resources, financial planning and forecasting, sales, infrastructure, electronic communications/equipment and claims. Linda has held a variety of leadership roles at State Farm for 15 of her 19 years. Linda has completed continuing education courses in leadership at Cornell University, executive strategy at Columbia University, 2008 Leadership Texas graduate and the workings of Congress at the Brookings Institution.
Linda resides in Fort Worth, Texas with her kids and family close by.