Making a Living, Making a Life
Nearly every company trumpets its commitment to service in its mission statement, employee training, and sales literature. As much as customer service has been emphasized in the past few decades, it's receiving even more emphasis today.
Almost without exception, people have many more choices when they shop. Can't find an out-of-print book at the local used bookstore? Try the digital shelves of Amazon. Don't like the selection of iPhone covers at the Apple Store? A nearly infinite variety is within a few mouse clicks.
As choice has expanded, service expectations have risen. Today's customers expect faster and better responses from businesses. A few years ago, most businesses were doing well if they could respond by sundown to a customer request, but today same-day service usually isn't good enough to begin a customer relationship.
Whether you own a small business, work for a growing company, or manage people in any capacity, you've faced the challenges of ensuring that your service is excellent and of creating the right conditions to bring out service excellence in others.
As someone who has attended seminars on service, started and run several small businesses, and managed people for a Fortune 500 company, I am struck by how limited our concept of service really is.
(read more)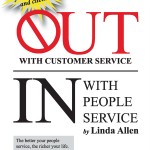 What People Are Saying
"Linda walks this talk! Trust her!"
Priscilla Clark, VP-Operations State Farm Insurance
"Linda will do well no matter what she undertakes as she understands how to please people."
Mike Portis, State Farm Claims
"Linda's compassion for others makes people service easy for her. She waited too long to share the concept with others."
Howard Hines, President & CEO Nano Mist Technology
"Use the ideas you learn in this book and you will see results in your business and personal life. She practices it and it pays off!"
Ron Sturgeon, Serial entrepreneur, consultant and author
"Powerful message here, grab an armchair and just soak it in."
Rhonda Stallworth-Moutry, Manager – State Farm Insurance
Latest press on Linda.
State Farm Agent Linda Allen Holds Key to Saving on Auto Insurance: Defensive Driving Class at State Farm Office in Saginaw, Texas, on April 24, 2010

FORT WORTH, Texas (April 5, 2010) – On average, every day in 2009, 93 people died on American roads and highways. Although the trend in highway fatalities has been downward,… Read more…

Fort Worth Responds with Overwhelming Generosity to Help Saginaw State Farm Agent Collect Food and Clothing for Haitian Survivors

FORT WORTH, Texas (April 22, 2010) – Imagine that your home and all your belongings were destroyed. Imagine you couldn't turn to friends, family or neighbors for help because their… Read more…

Veteran State Farm Executive Starts New State Farm Agency in Saginaw, Texas

FOR IMMEDIATE RELEASE Contact: Linda Allen, CLU Linda Allen Insurance Agency 8101 Boat Club Road, Suite 240 Fort Worth, TX 76179 Office: 817.236.7200 Mobile: 817.999.5504 linda@lindainsuresme.com Linda Allen Opens State… Read more…
Out with Customer Service In With People Service